The Road to Wrestlemania continued last night in Las Vegas and it gave us far from surprising results. What went down at the Elimination Chamber pay-per-view? I'll tell you.
Luke Gallows & Karl Anderson (The Club) vs Curtis Axel & Bo Dallas (The Miztourage)
The first match of the night not being a pointless 6-man Cruiserweight tag match was an absolute bonus because there is only a certain number of times you can see the same match at every PPV. This one saw The Club face The Miztourage with the former taking the victory in a fairly bog-standard tag team match. The Miztourage dominated the early proceedings but Gallows and Anderson rallied together and hit the Magic Killer for the 1-2-3. After the match we had a cut to The Revival who called The Club a "mockery" to the tag team division.
What does this mean?: It would seem pretty obvious now that The Club and The Revival will feud after Wilder and Dawson's sweeping statement about Gallows and Anderson's in-ring abilities. With the way the tag team title picture is looking at the minute, expect one of if not both of these teams to challenge for the titles at Wrestlemania.
Women's Elimination Chamber Match – Alexa Bliss, Sonya Deville, Mandy Rose, Bayley, Sasha Banks and Mickie James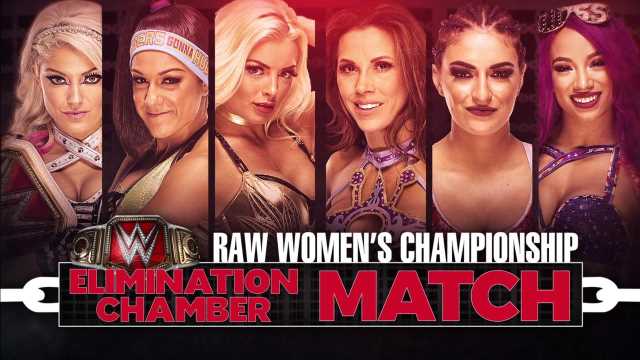 History was made once again in the women's division with the first ever women's Elimination Chamber match, but why put it on first? The Women's Royal Rumble was the main event of that PPV so why is the rule different this time round? Well, without meaning to drop spoliers for what happened in the men's match, a certain Big Dog may or may not have been a factor.
This match was great, it had all the storytelling and in-ring prowess we would require from a top draw event and the women truly delivered once again. The match started with Sonya Deville of Absolution and Bayley in the ring before the 'teamwork' booking of the match kicked in with the next two entrants; Mandy Rose and Sasha Banks. Banks and Bayley took on Absolution and eliminated Rose before the next entrant, Mickie James, eliminated Deville with a great spot from the top of her pod. Mickie seemed to be on fire but was double-teamed into a backstabber/Bayley to Belly combo by Banks and Bayley who eliminated the six time champion.
Now the wait was on for Banks and Bayley as they anticipated the arrival of Alexa Bliss, the Raw Women's Champion, from her pod and into the ring. As the timer went down Bliss scurried away, scaling the steel structure before being cornered onto a pod. Banks knocked Bliss to a knee but then betrayed Bayley by kicking her off the top of the pod onto the mat. Plenty of near falls later and a nice frog splash by Sasha Banks, Bayley hit her finisher from the second rope on Banks but was rolled up by Bliss for the 3 count. It was down to Banks and Bliss, arguably the two best fits as champion in that match, and they didn't disappoint. Bliss hit an amazing Twisted Bliss from the top of the pod which clearly bumped Banks but she somehow reversed it into the Bank Statement? Poor selling from her really on what should have been the best spot of the PPV.
Bliss survived the submission and sprung to life to hit her snap DDT from the middle rope and gaining the victory. Afterwards with Renee Young interviewing her, Bliss began to cry under the "you deserve it" chants before going full badass heel once again and claiming herself as the true goddess of WWE. I loved this promo so much.
What does this mean?: So, Bliss is still the champion and the hopes of Asuka vs Sasha Banks at Mania appear to be all but over. It is still far from 100% clear who Asuka will challenge on the grandest stage of them all but after this it does look like she will be facing Alexa with Sasha facing Bayley elsewhere. I am still waiting for a full heel turn by Sasha Banks because a kick doesn't cut it for me, but either way the clashes with Bayley will be hellacious. After this performance I think Alexa Bliss looks like a true champion as well as talking like one and that can only mean good things for Mania (aka she won't just be a feeding job for Asuka). A match like this one proves once and for all that the women's revolution is going from strength to strength and groundbreaking, main-event worthy moments will be happening on a regular basis from now on.
The Bar (C) vs Titus Worldwide – RAW Tag Team Titles
After gaining a few victories over the champions on Raw in the past month or so, Apollo and Titus gained an opportunity at The Bar and their RAW Tag Team Championships in the main card's second match and if I am being honest, this match was a bit dull. There weren't really a great amount of even half-decent spots, the pace was slow and a lot of the attention was on Dana Brooke's charismatic persona at ringside as she tried to get the fans on side. Apollo took a beating for 90% of the match and after a Titus hot tag you felt for just a split second like the unlikely could happen and Titus Worldwide could take the titles. Alas, The Bar did what they do best and put a bit of gloss on the match with their great double team finisher for the 1-2-3.
What does this mean?: Seriously, not an awful lot. All it proves is that Titus Worldwide are mid-card talents with a quirky gimmick and The Bar are a world class tag team who need a fresh feud to really bring out their best once again. It could potentially see them face off with The Club or The Revival which would be great but maybe a shake up in the draft after Mania could do the tag division the world of good.
Asuka vs Nia Jax
The potential for this match was endless but the booking itself seemed dangerous. They had the undefeated and heavily protected Asuka in one corner, a woman who simply cannot lose until after Mania at the very least; and in the other you had Nia Jax who has been portrayed as this dominant figure in the women's division who cannot be stopped. Neither could really afford to lose or look inferior here so what does that equate to? Yep, you guessed it, a sloppy match with a roll-up finish. Asuka worked her fingers to the bone in this match and to her credit, she got a couple of really nice spots out of Nia who played the role of big, bad dominant force very well. Some great reversals from Asuka (out of a Samona Drop and a Powerbomb) ensured the Empress of Tomorrow could snatch a victory, much to the disdain of Nia.
Nia Jax took out her frustrations on Asuka after the match was finished and she crushed her through a barricade to a great crowd pop. This was a safe option to do because it means that despite the result, it's still unclear as to who came out the best out of Asuka and Nia because Jax still looks really strong despite losing the match. A post match interview with Alexa Bliss saw her claim that "nobody, not even Asuka, is ready for Alexa" which was just marvellous and set the groundwork for a Wrestlemania showdown.
What does this mean?: It means Nia Jax will not be in a triple threat match at Wrestlemania against Asuka and her champion of choosing. It also means that Asuka's path seems a bit clearer as it almost looks set in stone that she will face Bliss but it is still entirely possible for Asuka to hit a U-turn and challenge Charlotte over on Smackdown, with the potential of Nia Jax taking the title from Bliss at Mania also being fresh off the rumour mill.
Woken Matt Hardy vs Bray Wyatt
This feud needs an injection of energy, badly. The promo beforehand made the whole thing seem rather exciting, as we saw the gradual destruction of Matt Hardy's mind right before our very eyes and his vows to "delete" Bray Wyatt. The match itself also started well with Bray's music hitting, him being in the ring but with no sign of Matt apart from his long purple coat. He was chanting in the background about rendering Bray "obsolete" before springing an attack on him while he wasn't looking. The crows just weren't involved at all with this one apart from one crafty spot where Bray did his creepy corner thing and Matt gave him an ovation, encouraging the crowd to join him.
Chants of "Rusev Day" on a RAW Pay-Per-View made me laugh as well as frustrating me and the whole thing with the beach ball in the crowd getting more attention than the performers made my blood boil. Why spend tickets on an event and then just not bother watching the action? Anyway, that's another argument for another time and basically what I am saying is that this match wasn't great, and once Hardy finally hit Bray with the Twist of Fate for the win I was relieved it had finally ended.
What does this mean?: It means that this feud needs something to kickstart it back to life. What WWE have at their disposal is two of the most polarising gimmicks in the world, two men who play incredible strange characters; so why not give them creative control? There are rumours that filming has taken place at the Hardy compound and so we could see a similar tale to that of the Final Deletion on TNA which would be fantastic.
Men's Elimination Chamber Match – Roman Reigns, Seth Rollins, Finn Balor, John Cena, Braun Strowman, Elias and The Miz
In the main event we were given a match which could have been simply magnificent. In fact, for the most part it was, we had great spots, some amazing performances and truly world class wrestlers competing together. The major issue with this match was that it was the most predictable thing I have ever watched. I just couldn't enjoy the match one bit because we all knew what was going to happen. If you went into this match expecting anyone other than Roman Reigns to win this match then quite frankly you're a fool, Roman vs Brock has been Vince's dream main event for three years (since it last happened, y'know, when Seth did the greatest cash-in of all time) and there is nothing we can do about that.
The match was historic, which appears to be the WWE's hot word at the minute because they love shoving down our throats every five seconds (a bit like Roman Reigns really). It was historic because it was the first ever seven man match so as a result we had three men start and four in pods. Elias came in first but we already knew he was going to exit his pod last so we could sit back and enjoy "walking with Elias", which is one of the most over things in the company right now. His song was magnificent heel work and was disturbed by Braun Strowman, a man that the fans clearly believed could be the hero of the hour and stop Roman breaking their hearts. John Cena and The aforementioned Large Hound Roman Reigns entered their pods soon after.
The match began with Seth Rollins, Finn Balor and The Miz doing some great crows work as they circled around and worked out who was teaming with who. The Miz attempted to team with Rollins but was rejected, he then offered Finn a "too sweet" moment to team but he was rejected again; then Finn and Seth worked together to take Miz down as his plan backfired. Once Strowman appeared in the match he unloaded on The Miz and threw him off the top of a pod and eliminated him with his typical carnage. Actually, Braun eliminated EVERYONE in this match; apart from one man. Well, this man isn't actually a man, he's a dog; and a bloody large one at that. Vince's pet big dog Roman Reigns hit Braun with repetitive finishers and eventually got the pinfall on Braun, the same man who earlier kicked out of a Shield bomb, an AA and a Spear simultaneously.
I would go on about this match in a bit more detail but I am actually just so appalled at how obvious the ending was that I don't want to waste my energy on it. Nice one WWE, you have made me so irritated that I don't even want to talk about this show.
What does this mean?: Well it means exactly what we knew for years now, the main event of Wrestlemania will be Roman Reigns vs Brock Lesnar for the Universal Title; the fourth year in a row that Big Sweaty Roman will be the show's closing act. He will ultimately win to a stratospheric chorus of boos from the crowd but Vince couldn't care less; Roman is his guy and that's the brunt of it. As for the others, The Miz will probably face Braun for the IC Title at Mania, but the other four are in the dark. I am 100% certain that they will all have great slots at the event because they are four of the company's best. If I had to predict now, I would say that Finn Balor will feud with Elias, Seth Rollins will face Samoa Joe and it's entirely possible that Big Match John Cena could join Ronda Rousey in a showdown with Triple H and Stephanie McMahon.
BONUS: Ronda Rousey's Contract Signing
So this was it, after her arrival at Royal Rumble, Ronda Rousey was about to sign her WWE contract live in front of the WWE Universe. When have live in-ring contract signings ever gone wrong? Surely there would be absolutely no drama here and she would just put pen to paper with no plotlines whatsoever?
Well the first half of this was a bit sloppy, Ronda seemed slightly overwhelmed by the experience and Trips and Steph were competing with one another in a 'Praise Ronda Rousey-off'. Her first ever words in a WWE ring were "hey guys" which kind of made me laugh but also kind of made me cringe. As pen was about to be put to paper the whole thing turned up a notch and became instantly brilliant. Kurt Angle was being quietly reprimanded by Triple H and Ronda spotted this, asking Kurt if he had anything to say. Once he was given the platform he tore into the COO and said he was only signing Ronda to "own the bitch" after her Wrestlemania 31 antics.
Things turned even more sour when HHH escorted Angle out the ring but Angle managed to state that Steph told him Ronda was a "has been" and that she could take her. Engage Ronda angry mode and she squared up to Madam McMahon, Triple H scurried to the ring to stop things but was then slammed through a table by Ronda. OH. MY. GOD. This was an incredible spot and was followed by Steph delivering a wicked slap across Rousey's face.
What does this mean?: It means that Rowdy Ronda Rousey is officially a part of WWE on a full time basis, she has signed the contract and is a part of the active roster. Her first match will be at Wrestlemania and after last night's events, it doesn't take a genius to work out who her opponents will be. Ronda will surely team with either Kurt Angle or John Cena to face Triple H and Stephanie McMahon and that will being her reign of dominance one can only imagine.
Overall: 4/10
What a disappointing PPV. We all knew how the main event would go, the other matches outside of the women's chamber were performed at a slow pace and were just generally dull, it appears as though the women have well and truly saved this PPV from being entirely without merit. The inaugural women's Chamber match was fantastic and had some genuinely shocking moments, while Ronda's contract signing turned into a truly exciting promo for a Wrestlemania match. Roman Reigns is the name on everyone's lips, but not in the positive way Vince McMahon would want; instead he is being viewed as the most protected WWE Superstar of all time, reaching Hulk Hogan levels of never losing. Smackdown PPV Fastlane is two weeks away, one can only pray for a better showing there because this was like pulling teeth at times.